If you are on this page, it seems that you want to buy the game or find the price of Minecraft. On this page you will find all the information to buy Minecraft on computer, console and mobile at the best price.
Buy Minecraft on PC
Buy on Windows, Mac and Linux
Before you buy the game, you should remember a few things :
The current price of the Minecraft game is 23,95€ (or equivalent).
Once you have purchased the game, you will not have to pay anything more. There is no monthly subscription and no additional content (at least on PC).
The purchase on the official website is well secured.
If you have already purchased the PC version, you can get Minecraft Windows 10 for free
The payment methods are as follows: Credit card, Paypal, Bank Card, Paysafecard, JCB, Diners, UnionPlay or Discover.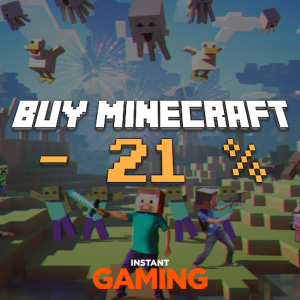 Buy the Minecraft game on PC
Total Time: 4 minutes
To purchase Minecraft, you'll need to start by creating a Mojang account

Fill in your email address and password

Fill in your date of birth and click on "Create an account"

You don't have to be over 18 to create an accountBuy minecraft price : press button

You will receive a code on the email address you have given

Retrieve the code then enter it in the field "Verification Code"

Now that your account is validated, log in

You must be from the email address on which you want to buy Minecraft

Fill in the nickname you will use in Minecraft and the payment options

Remember to ask your parents for permission if you are a minor! After that you can install Minecraft.
For what concerns the Windows 10 version, you can also find it at our partner.
Minecraft price on Console
You are more controller than mouse and keyboard and want to buy Minecraft Premium for game consoles and know the price? Follow the links below :
Xbox One for 19,99 € / Starter Collection Xbox One / Master Collection Xbox One
Xbox 360 for €18.99
PlayStation 4 for €18.99
PlayStation 3 for €18.99
PlayStation Vita for €18.99
Wii U for €29.99
Switch for $29.99
New 3DS for €29.99
You can find all these games in boxed version in your usual retailers.
Buy Minecraft on Mobile
You want to buy Minecraft for your mobile and know the price? Follow the links below:
iOS for €6.99
Android for €6.99
Windows Phone: available by purchasing the Windows 10 or console version
Kindle Fire for €6.99
Gear VR for €6.99
Fire TV for €6.99
Give Minecraft to a friend
Finally, if you just want to buy a Minecraft account for a friend, this time you'll have to buy it through Amazon, then redeem Minecraft for an activation code. The price remains the same. You'll have the choice between sending the code to the person directly via email or receiving it to give to them yourself.
💶 What is the price of Minecraft ?
Depending on the platform the game is at a different price. The Java version for PC and Mac costs 23,95 €. Check our site to see the other prices.
🎮 On which platforms is it possible to buy Minecraft ?
You can play Minecraft on: PC, Mac, Linux, Xbox one and 360, Playstation 3, 4 and Vita, Wii U, Switch, New 3 DS, iOS, Android, Kindle Fire, Gear VR and Fire TV.
🎮 What are the differences between the different versions of Minecraft on the platforms ?
You will not find all the features in the different versions of Minecraft:differences minecraft versions :