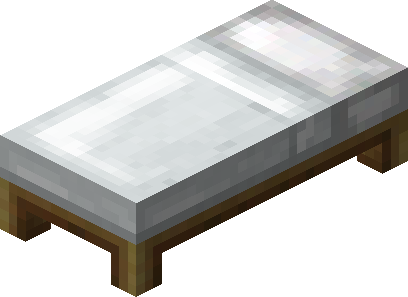 The bed is an essential object in Minecraft, it will be useful to you in order to sleep to make pass the night faster, and thus to avoid the monsters, but also to record your point of reappearance. Let's discover how to craft bed Minecraft ?
How do you make a bed in minecraft
Let's discover together how to make a bed in Minecraft / Minecraft bed recipe 🛏️
Total Time: 5 minutes
Start by harvesting wood from a tree.

You can use your fists or an axe to go faster.

Turn wood into boards.

A piece of wood will give you three boards. You can do this directly from your inventory.

Collect wool from sheep.

You can either kill the sheep with your fists or a weapon, or use shears. Shears have the advantage of not killing the sheep, so their wool grows back. Use 2 iron ingots to make shears.

Make a bed in a workbench with the boards and wool.

Place 3 boards at the bottom and 3 blocks of wool at the top. The color of the wool does not change the recipe of the bed in Minecraft.

Optionally you can change the color of the bed with a stain.

Cut flowers and put them in the inventory to have dyes. There are many different colors available.

You can now put your bed on the floor and sleep.

This will allow you to record sees point of reappearance, so if you die you will start the part next to your bed again.
Additional tips on creating a bed in Minecraft
Now that you know how to create your bed, you should pay attention to the following information if you are playing in survival mode :
Remember to make your bed before it gets dark.
Always place your bed in a safe and secure place.
You won't be able to sleep in your bed a monster is nearby.
Do not sleep in a bed in the Nether, it will explode.
And why not learn how to make a saddle on Minecraft.