Since version 1.3, it is possible to trade with the villagers in Minecraft. Two thirds of the offers are made only to scam the player, but some offer good equipment.
Knowing how to trade with NPCs is very useful for superfluous survival, only with them you can get glass, redstone, saddles, melons and cookies. They also provide diamond equipment. But since update 1.14 and the addition of many new villagers and trades, trading with them can be very profitable and has become more interesting.
This guide therefore allows you to know how to trade with villagers: build a farm in NPCs, have a lot of emeralds, avoid scams, etc.
Exchange mechanisms
Clicking on "trade" with an adult villager or a street vendor opens a graphical interface allowing you to trade with your interlocutor. The villagers make offers according to their jobs. All offers are made with emeralds and certain objects related to the villager's profession.
Different professions are assigned to each villager according to their profession block. This profession is indicated by their appearance and in the trade interface. The villager's profession dictates the trading pool used to determine his or her transactions. For example, villagers wearing straw hats are farmers. Their jobs are therefore based on the farmer trading pool.
Villagers have five levels of occupation that can be increased by trading with them. Each villager starts at the "novice" level. A villager's level can be seen in the graphical user interface of commerce and is characterized by a badge.
| Level | Badge | Name | Experience required : Java | Experience required : Bedrock |
| --- | --- | --- | --- | --- |
| 1 | | Novice | Available at the beginning | Available at the beginning |
| 2 | | Apprentice | 10 | 10 |
| 3 | | Journeyman | 70 | 60 |
| 4 | | Expert | 150 | 160 |
| 5 | | Master | 250 | 310 |
When a villager moves up a level, he wins up to two new exchanges, while keeping the old ones. A villager can gain experience by trading with a player and will level up when his or her experience bar is full. Once a villager has reached the next level, he will be regenerated and surrounded by particles for a few seconds. Each profession opens a set of predefined offers.
Villagers deactivate an offer after it has been used several times. The chances of deactivating an offer are different for each object. When villagers are working at their workplace, they reactivate their offers up to twice a day. When an offer is deactivated, a red "X" appears in the negotiation interface and the villager displays the same particle effect as an offer being created.
All exchanges with villagers reward the player with 3 to 6 experience points, or 8 to 11 points if the villager is willing to reproduce. Exchanges with a traveling merchant do not reward any experience points.
Economy system
In the Java Edition, villagers can make a maximum of 10 exchanges. Each level will unlock a maximum of two new exchanges. In the Bedrock Edition, villagers have 8 to 10 spaces for exchanges.
Each transaction can be used a defined number of times, after which the transaction is deactivated. Once exchanges are deactivated, villagers must work in their corresponding workstation to replenish their exchanges.
The price of an item increases and decreases with demand. An item that has been exchanged sees its price increase when it is restocked. If a player does not trade an item at a higher price, the price is reduced the next time the villagers are resupplied. Since demand is tracked by item and not by villagers, a villager may offer a more expensive trade for a single item, while others are cheaper. The Village Hero effect reduces the price of exchanges, except for exchanges costing an emerald.
When a player exchanges with a villager, both the player and the villager gain experience. A villager increases his or her level when his or her experience bar is full, unlocks new trade levels, and changes his or her badge (see table above).
Unlock offers
If no villagers sell the offer you want, you will have to use the last one, even if it scams you, in order to unblock others. In the last one, if you have to sell items, sell them (that will make you an extra emerald), but if you have to buy an item, just buy the one that costs the least emeralds.
If the unlocked offer is still not the one you are looking for, compare it with the others; but if, after a while, you still don't have the one you are looking for, go see another villager. Indeed, the more villagers you have, the more likely it is that the unlocked offer is an update of another one.
Possible exchanges with different villagers
You will be able to trade with the gunsmith, the butcher, the cartographer, the priest, the farmer, the fisherman, the archer, the tanner, the librarian, the stonemason, the shepherd, the blacksmith (weapons) and the blacksmith (tools).
You will find a graphics which summarizes all the exchanges that it is possible to make with each of these villagers according to their level and job then the detail by villager. You can also discover them with the slicedlime video.
The information is up to date for the versions 1.14, 1.15, 1.16 and more of Minecraft.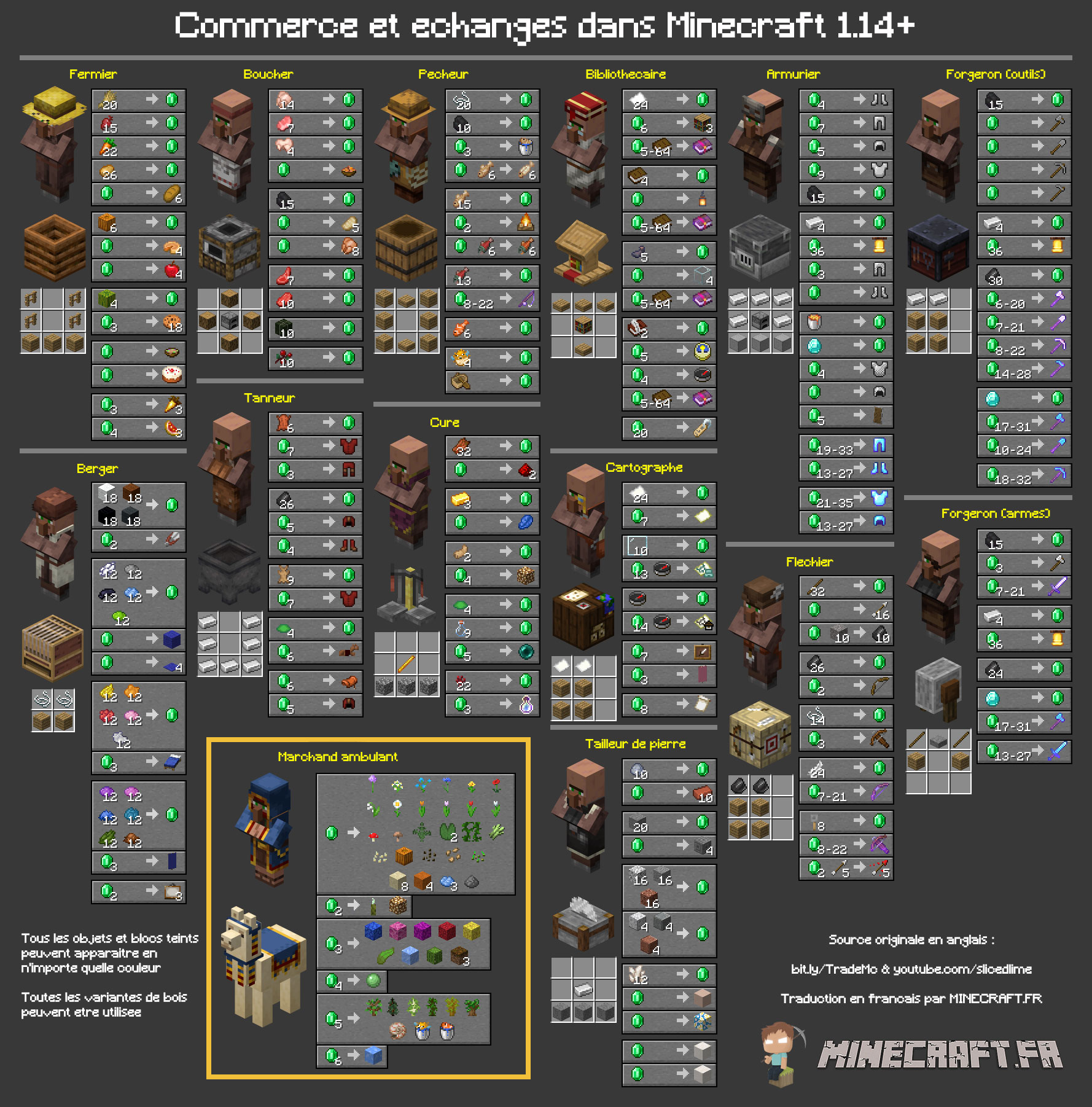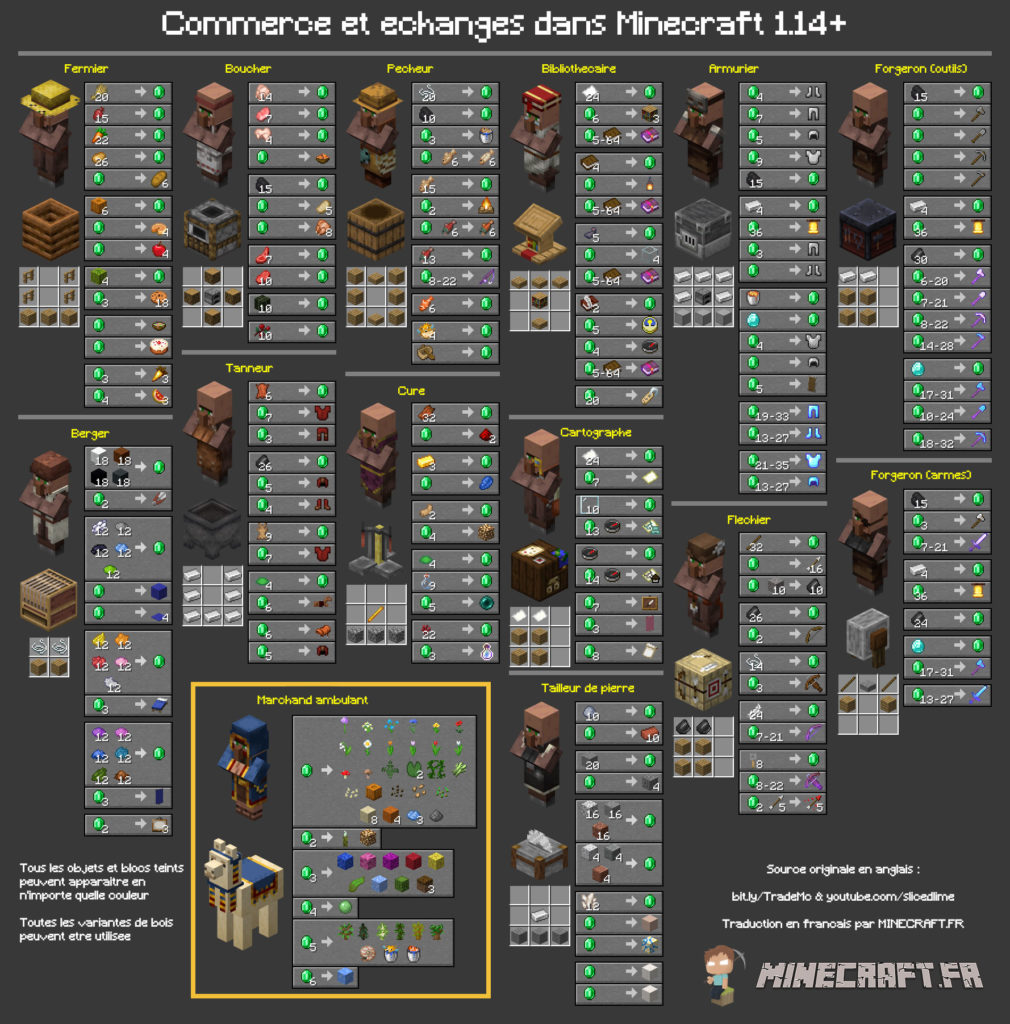 Armorer trades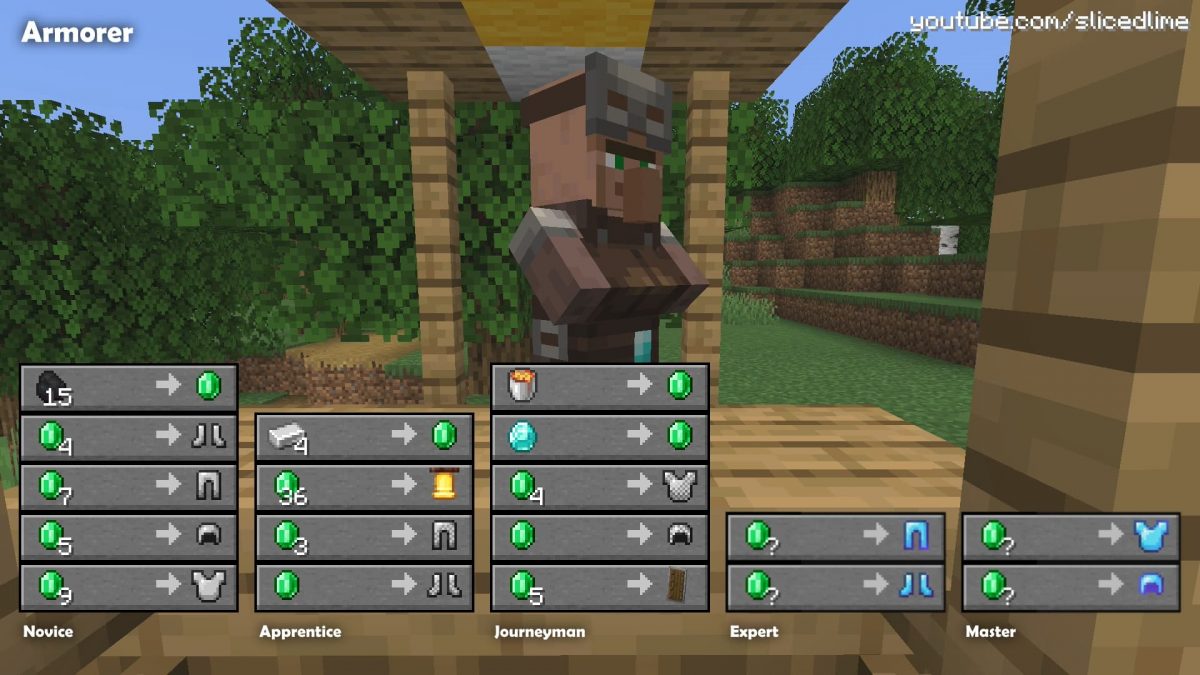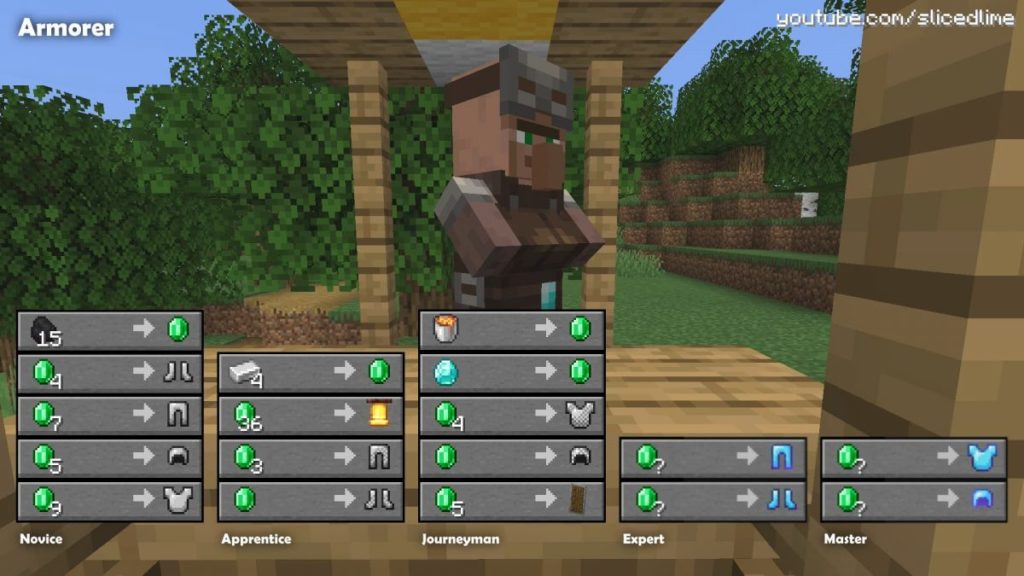 Butcher trades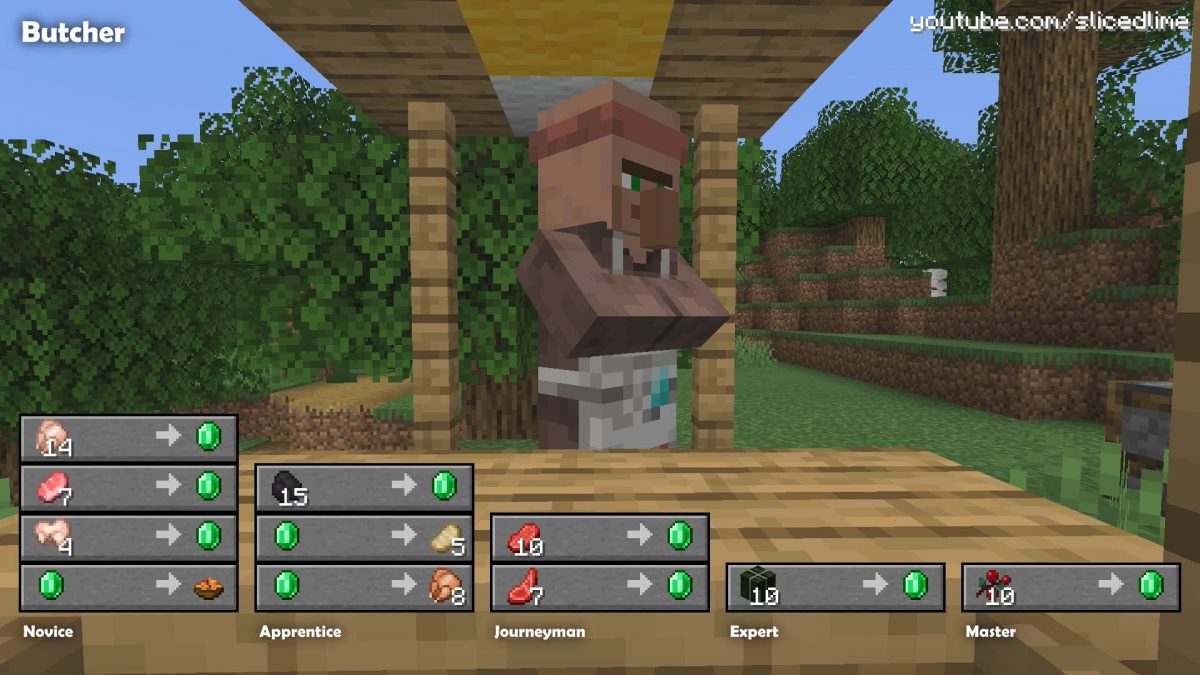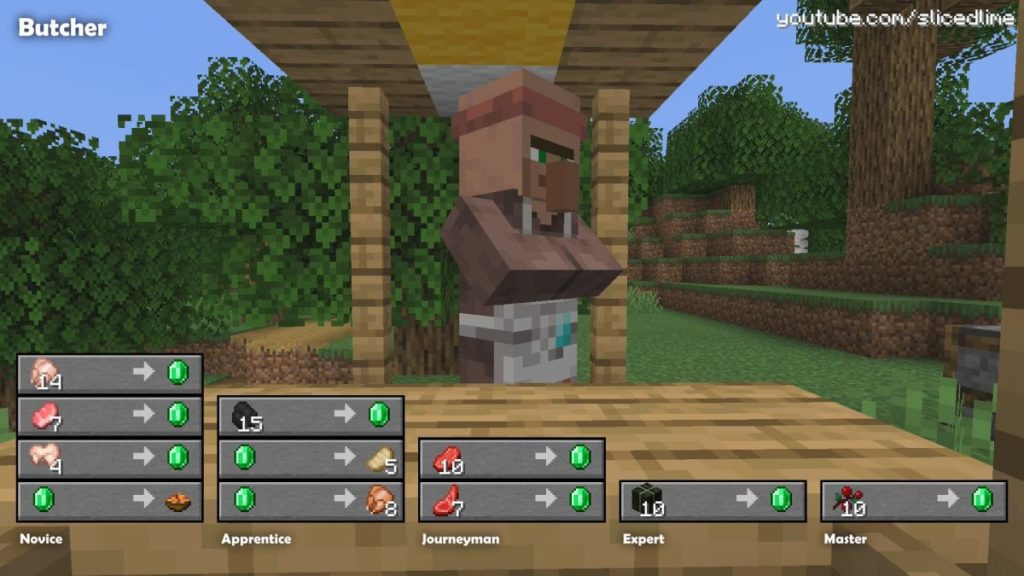 Cartographer trades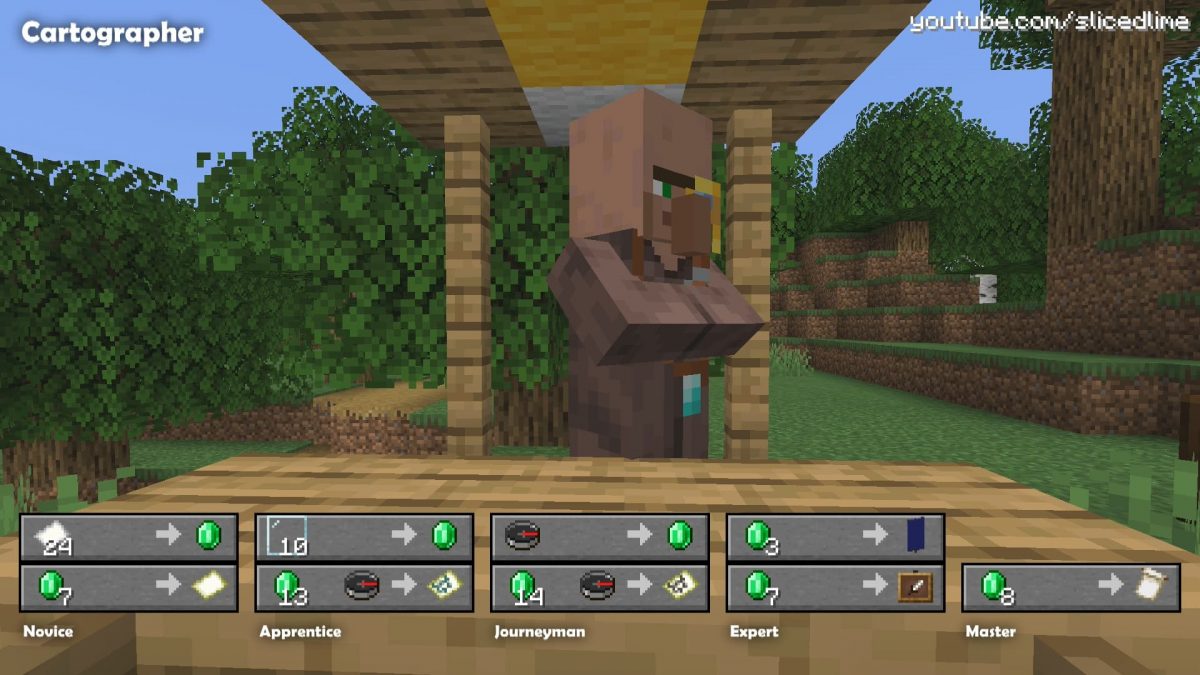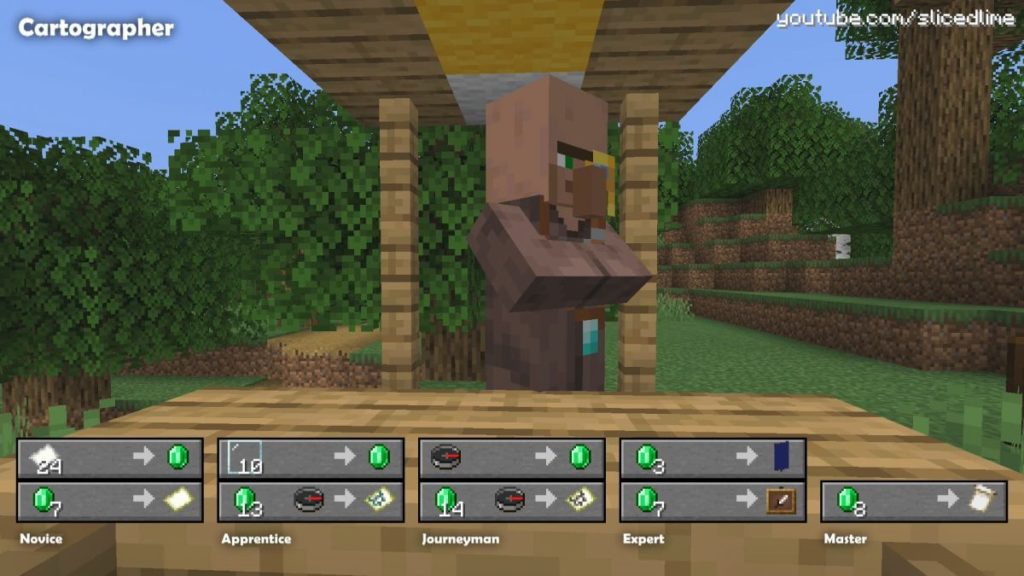 Cleric trades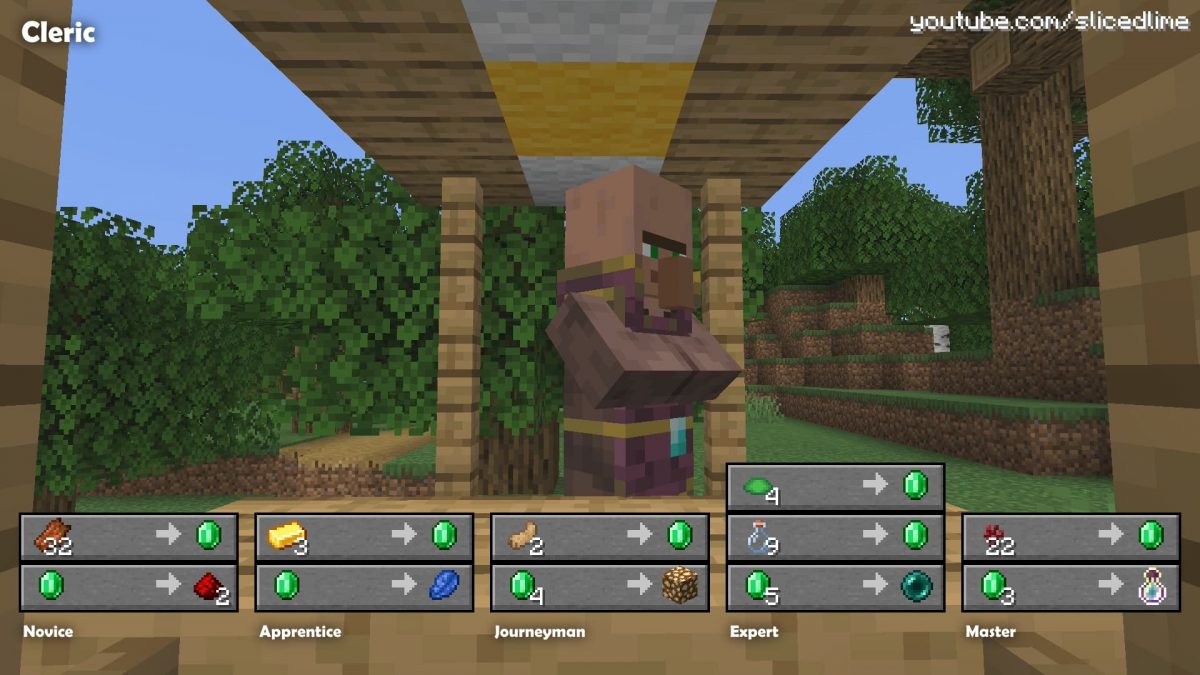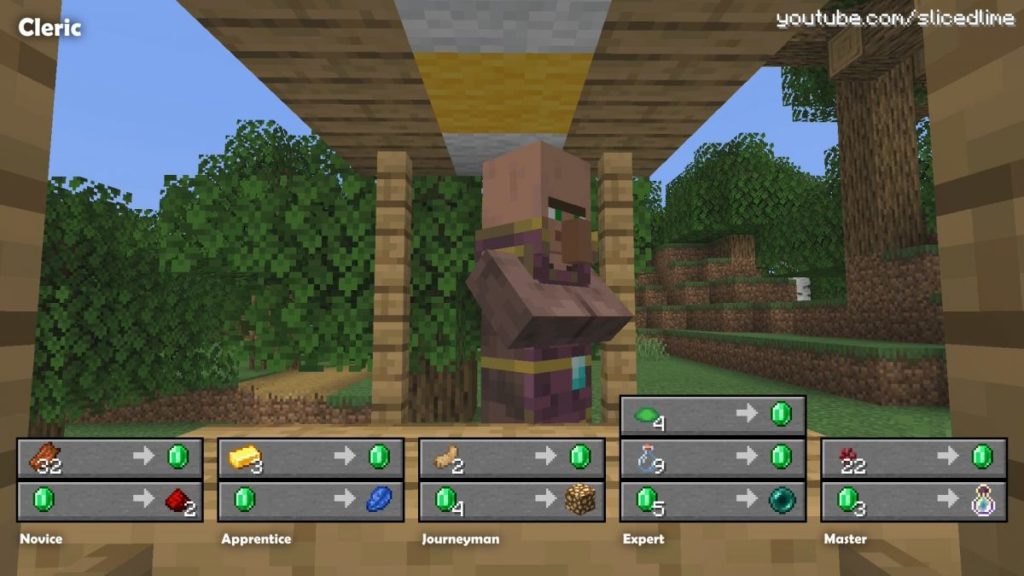 Farmer trades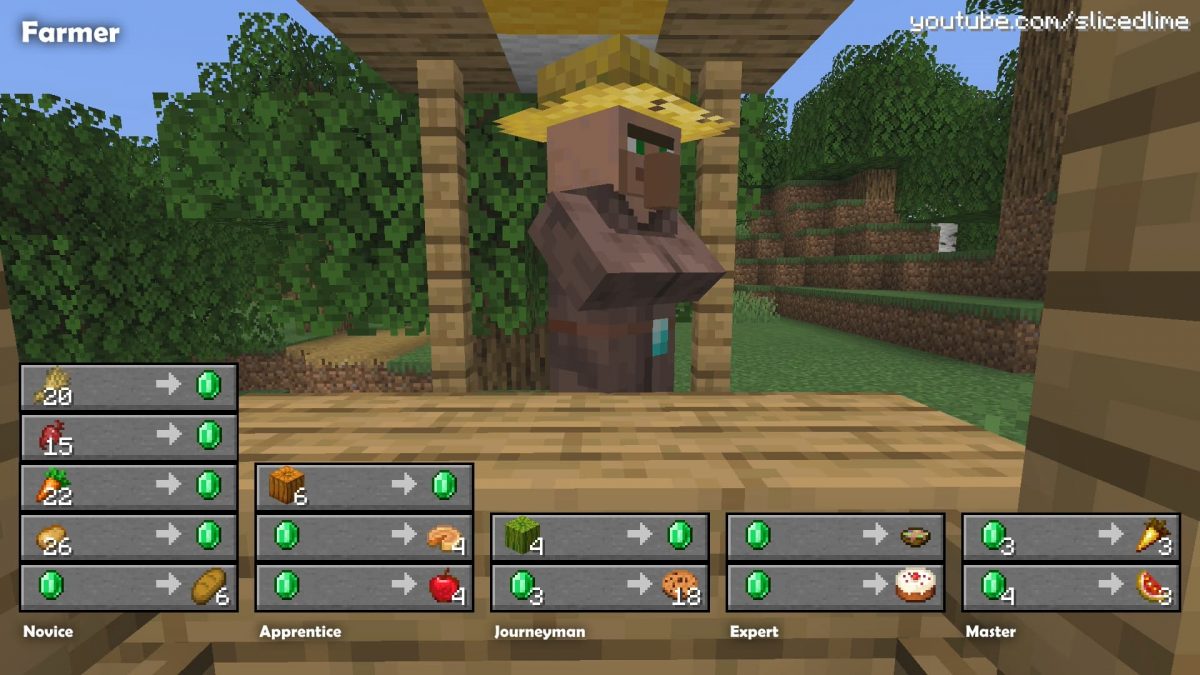 Fisherman trades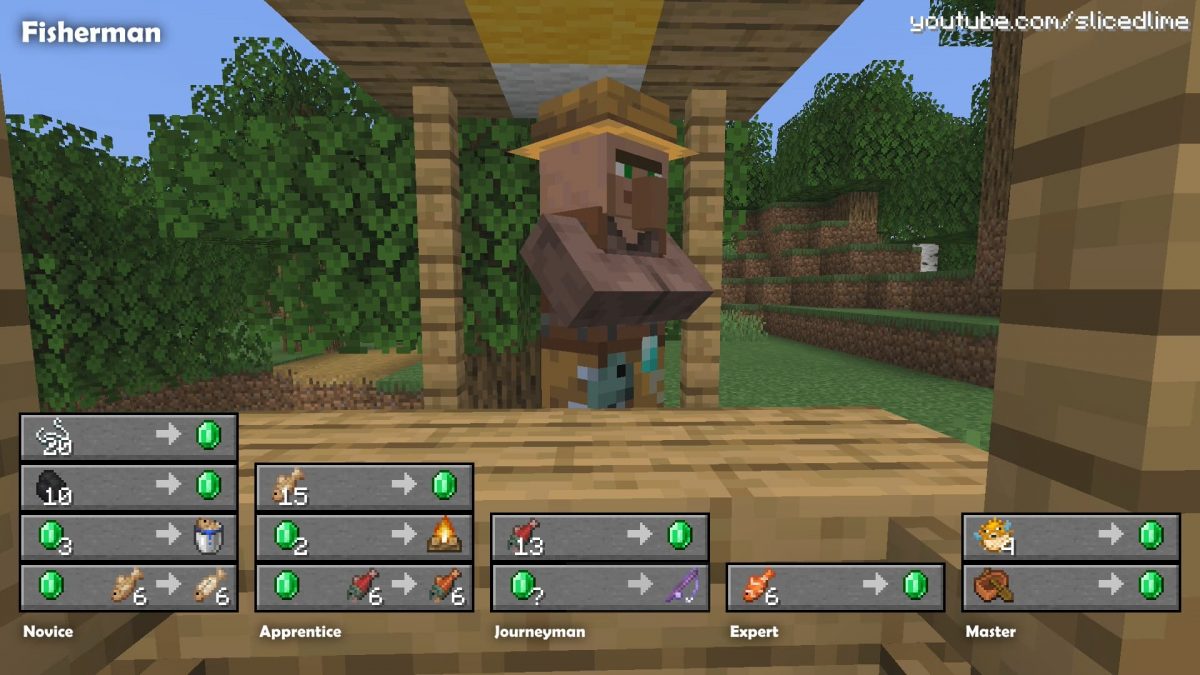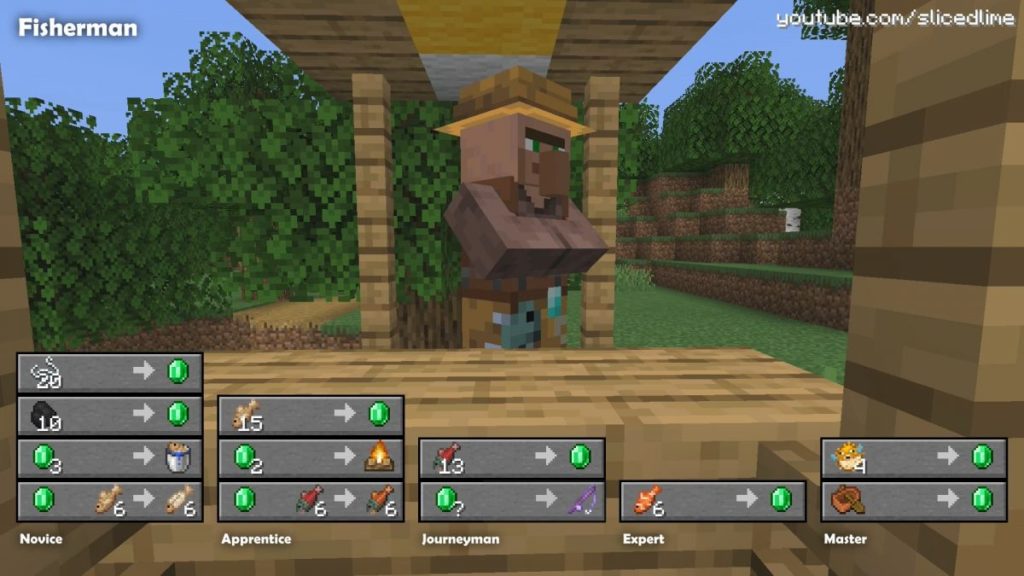 Fletcher trades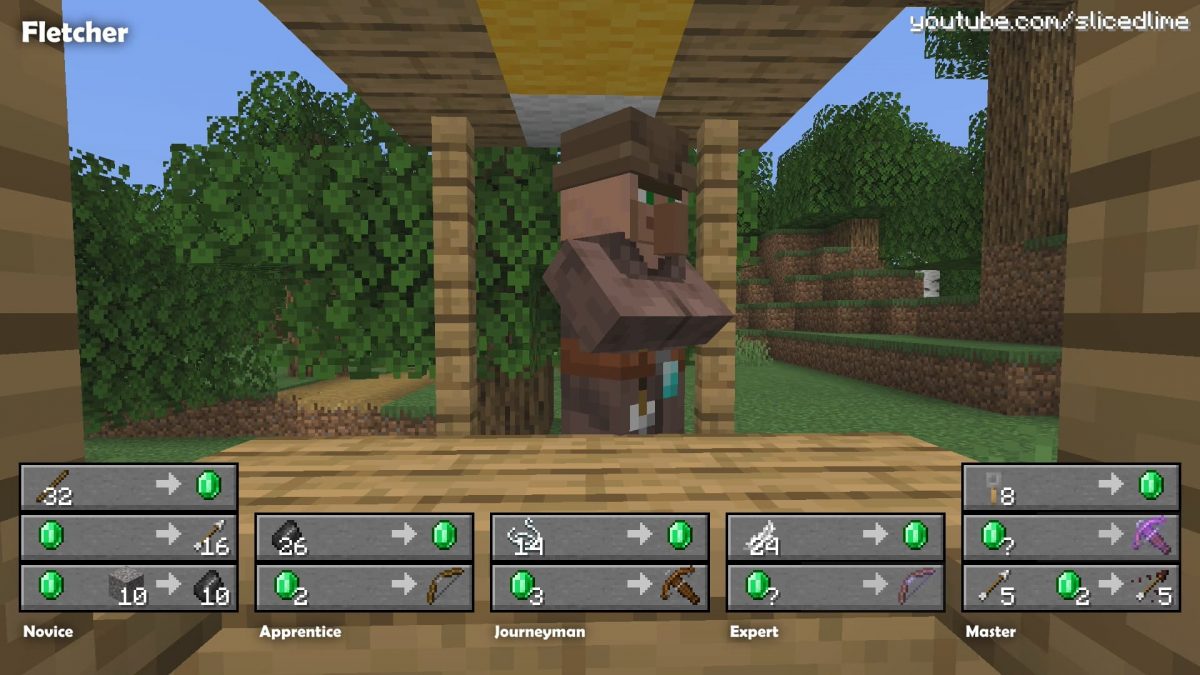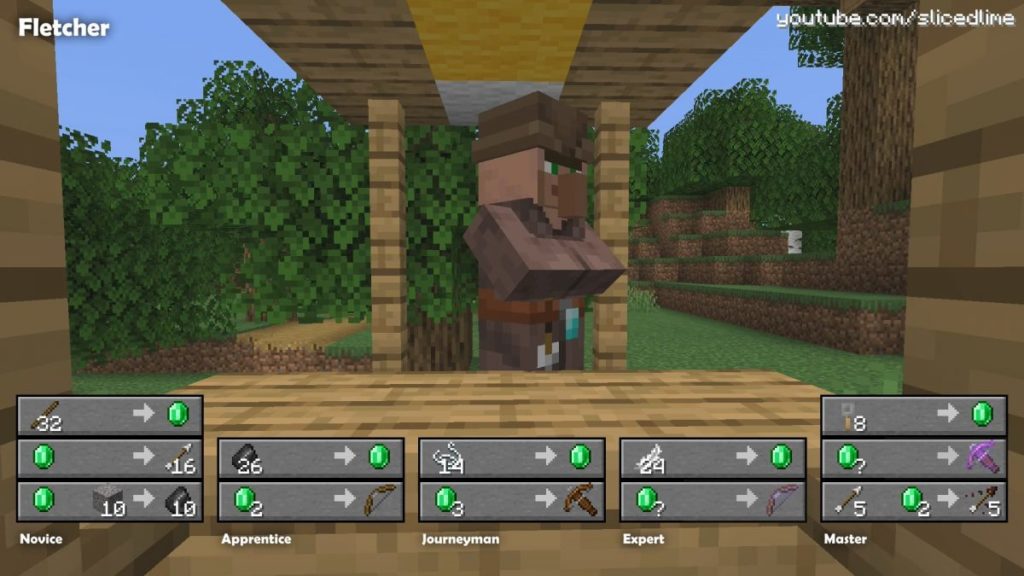 Leatherworker trades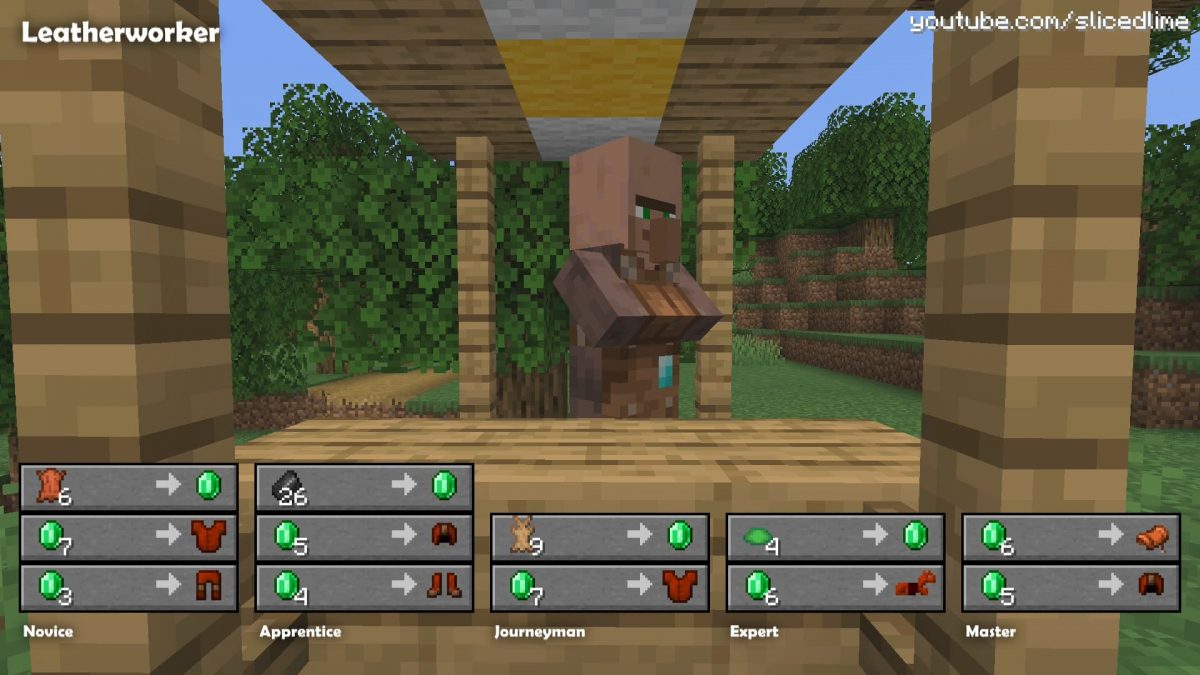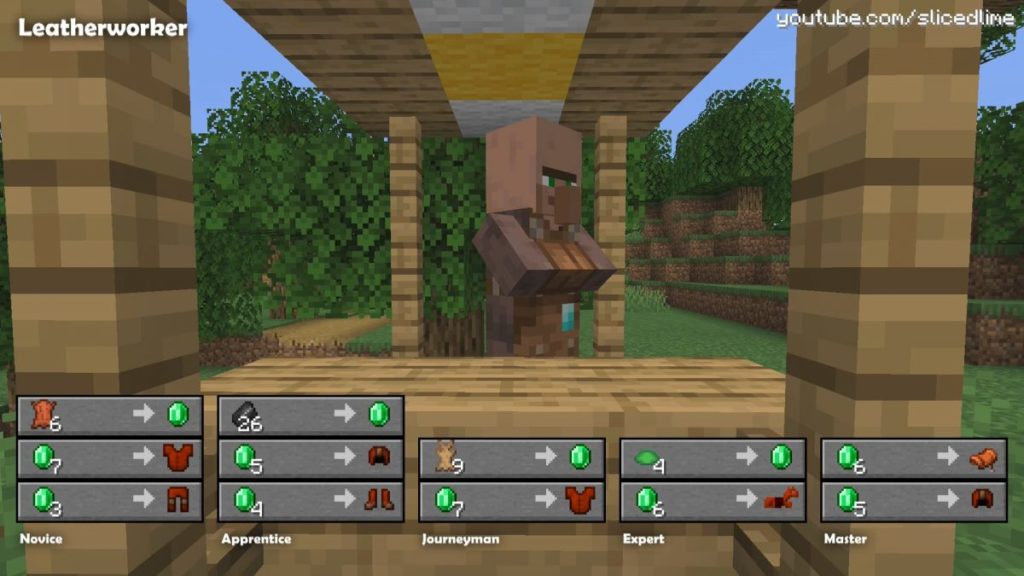 Librarian trades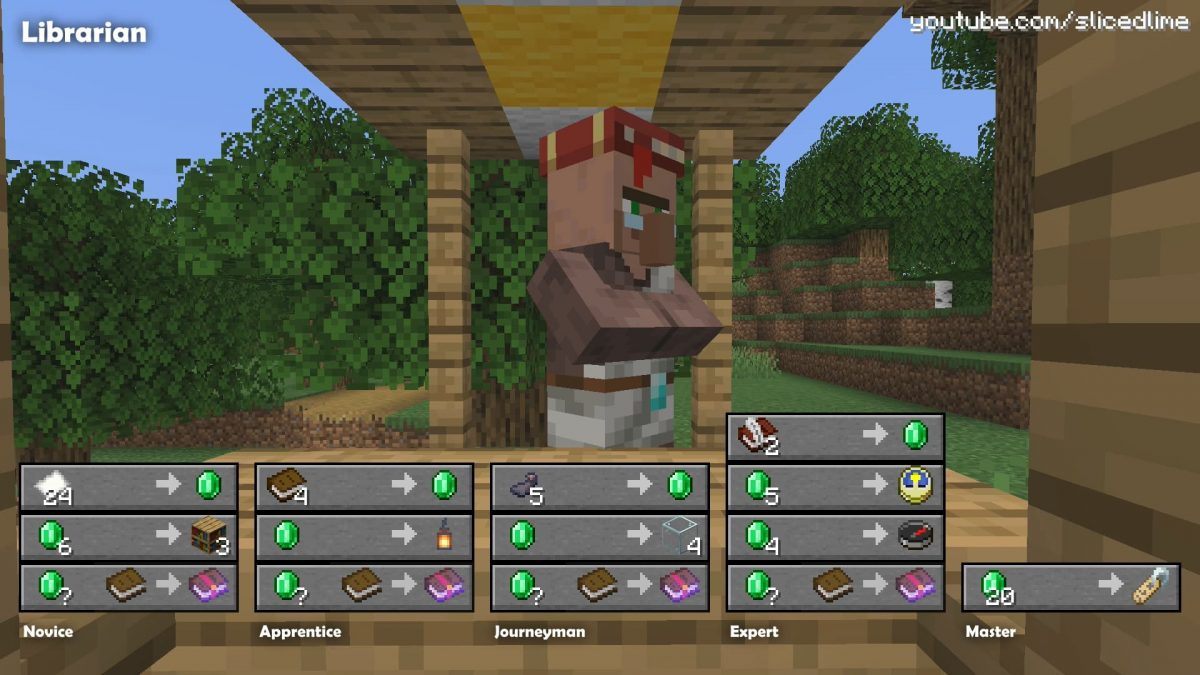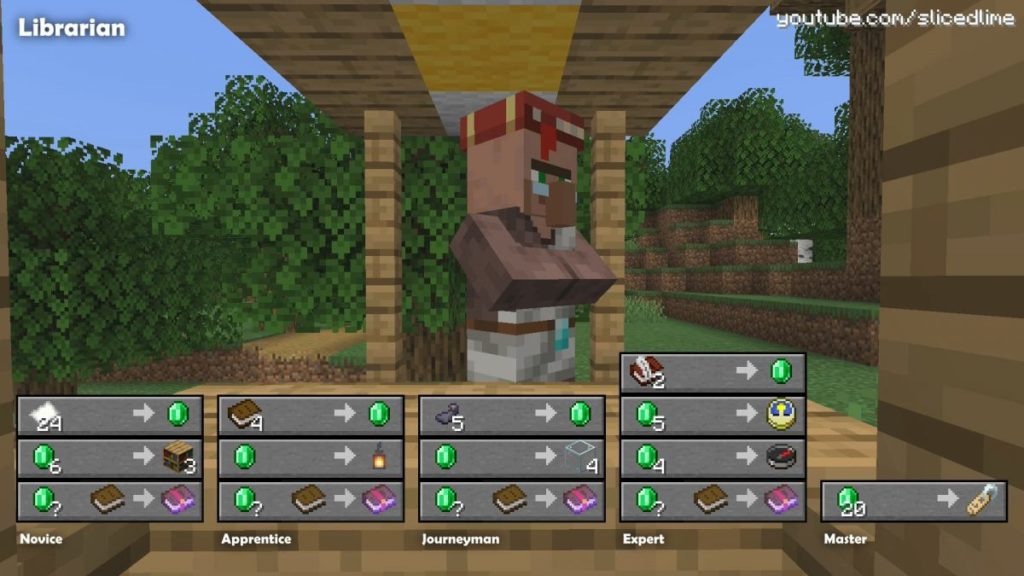 Mason trades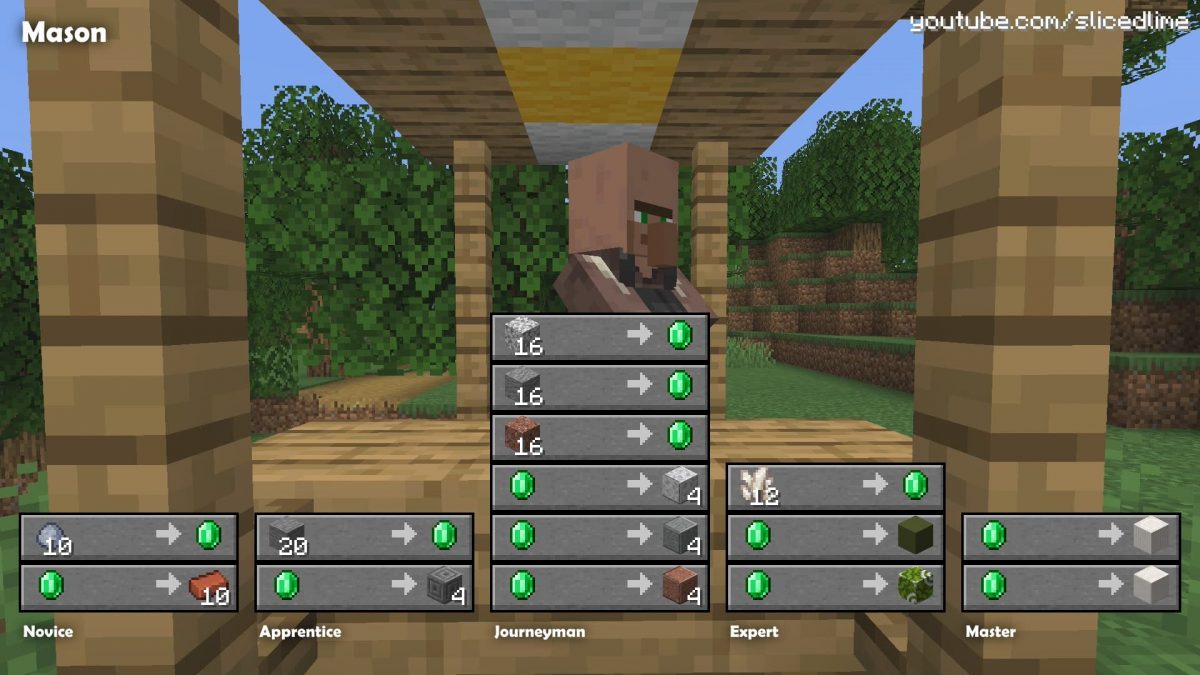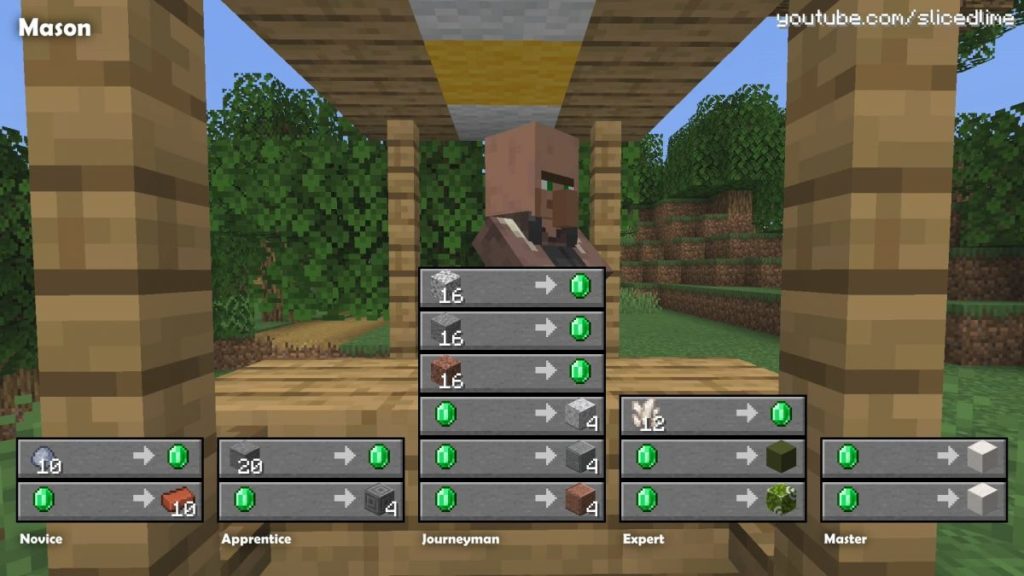 Sheperd trades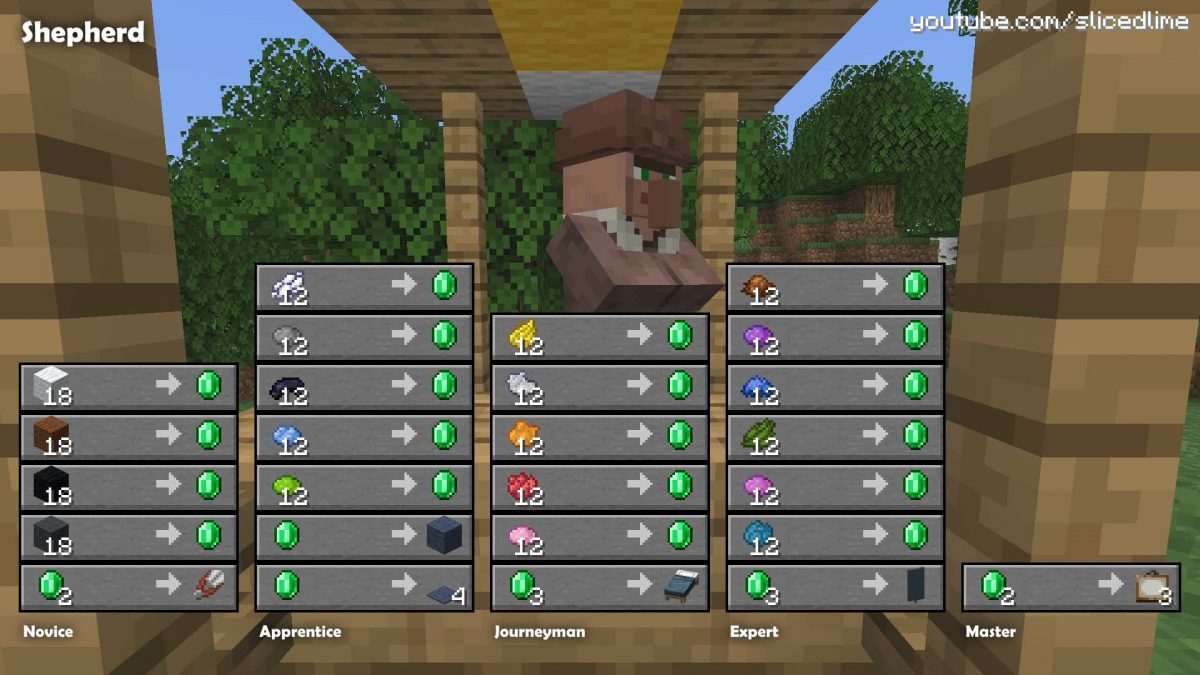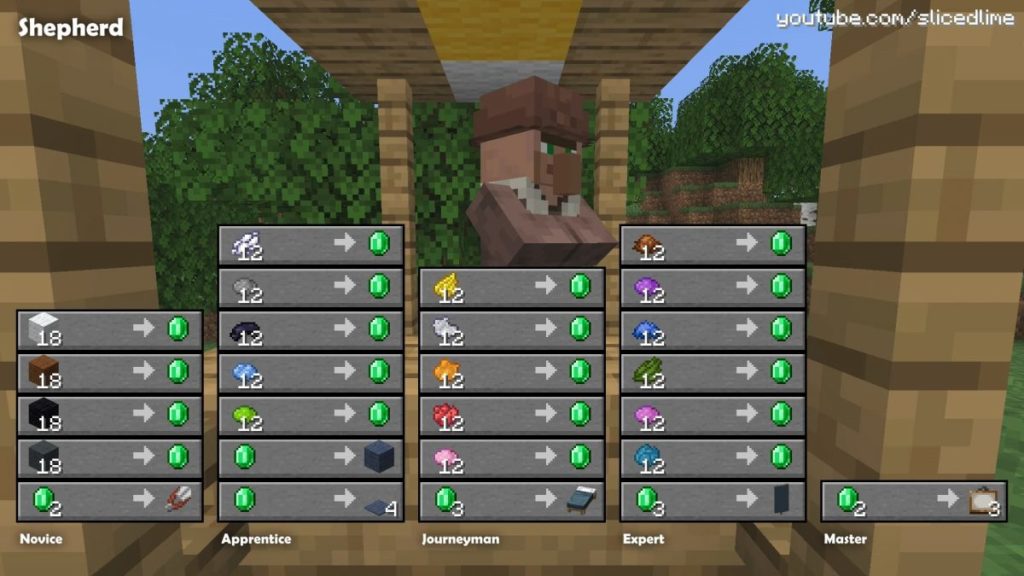 Toolsmith trades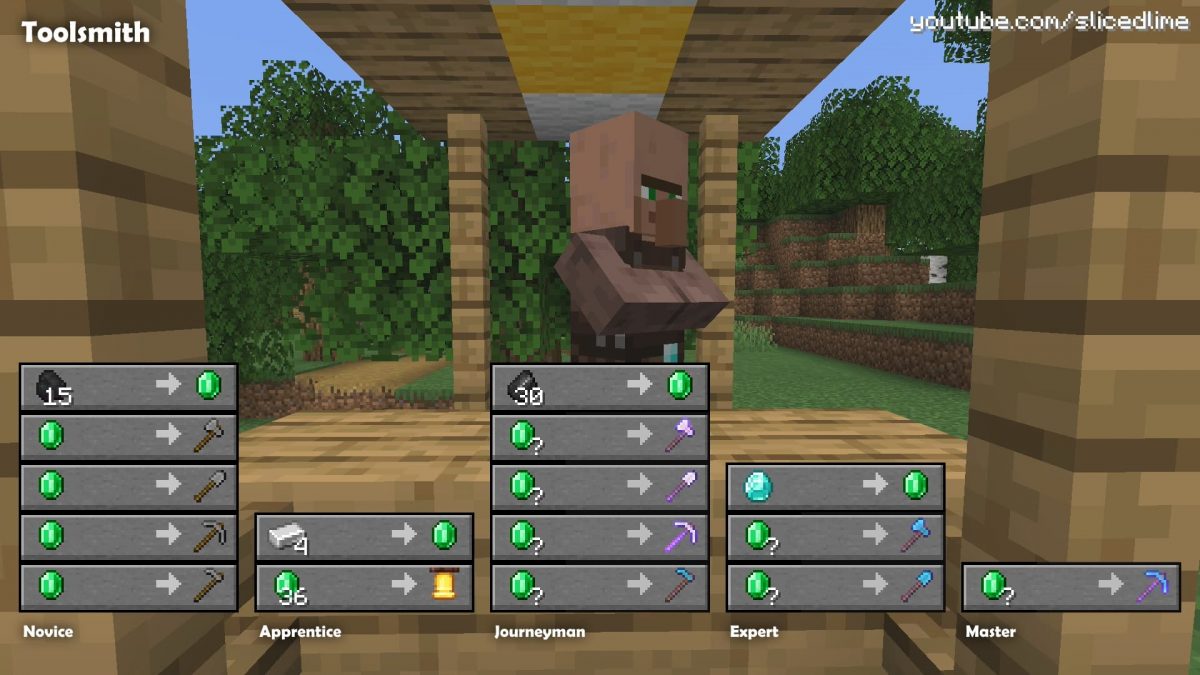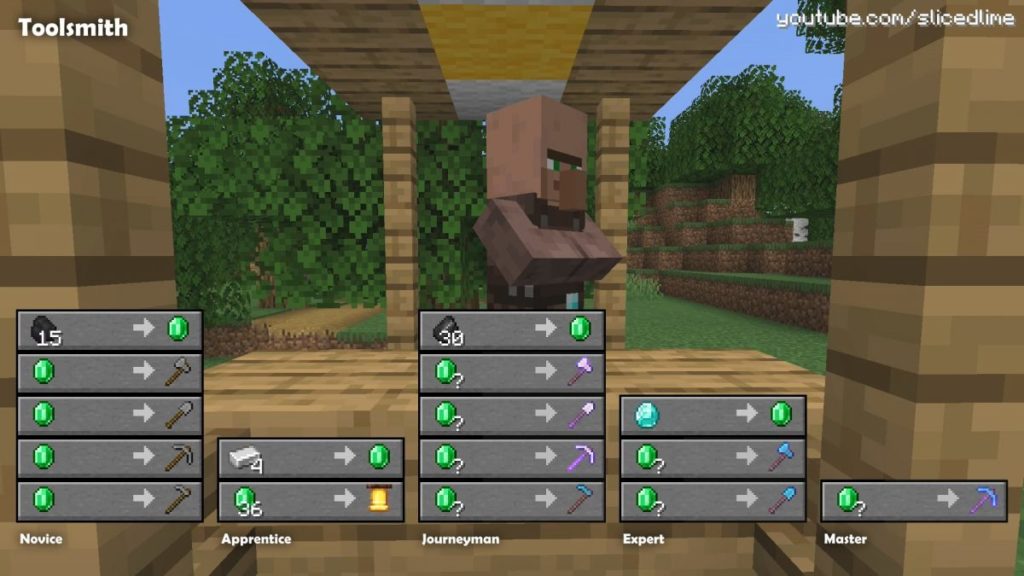 Weaponsmith trades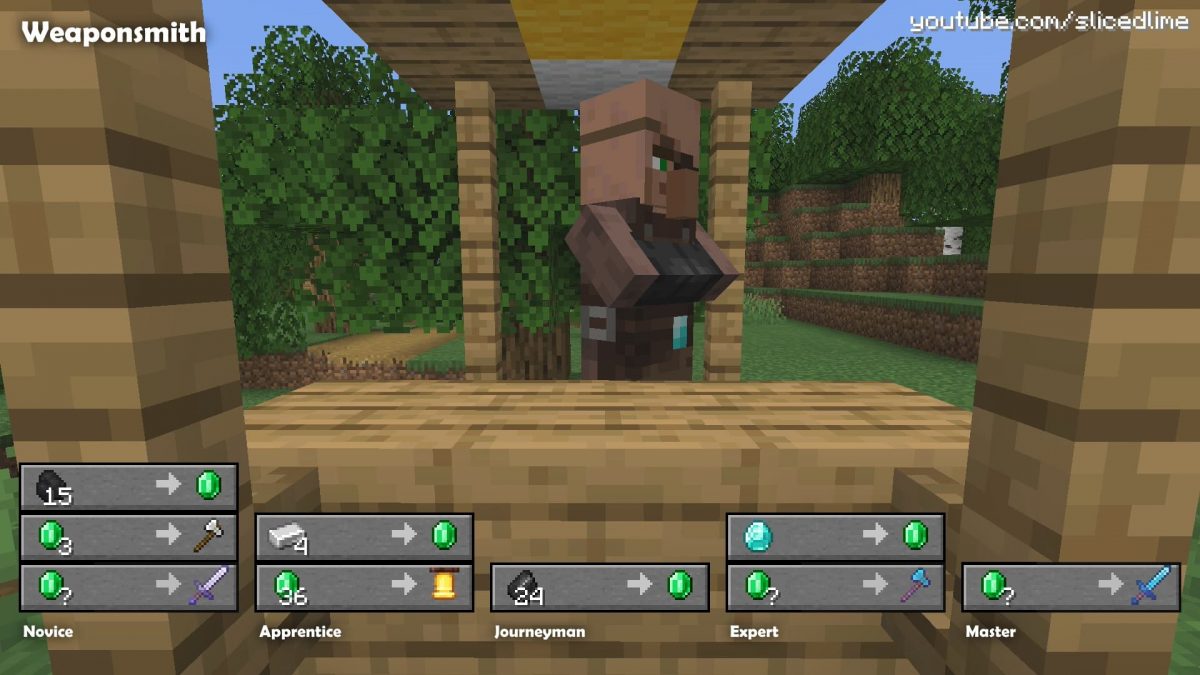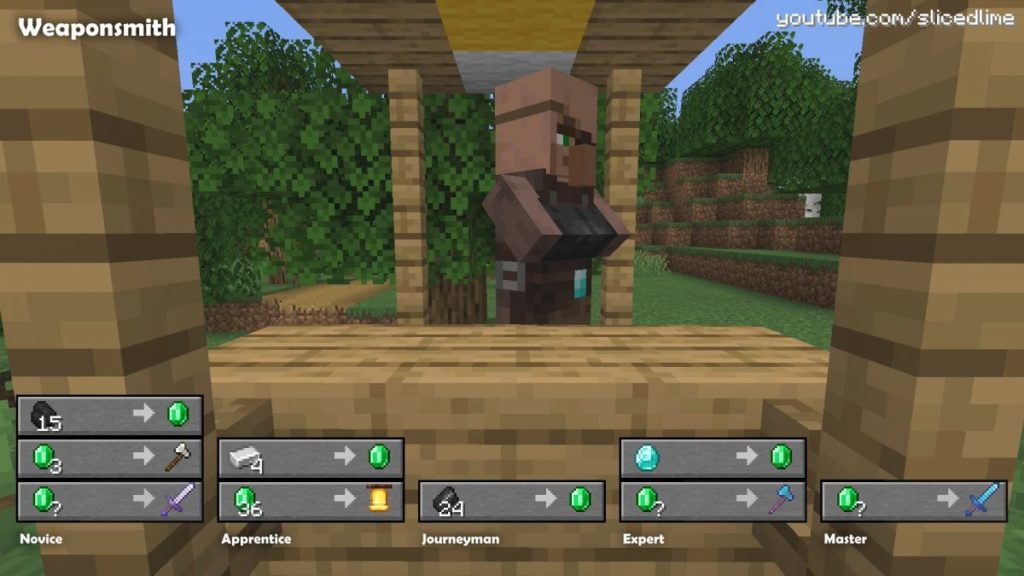 Wandering Trader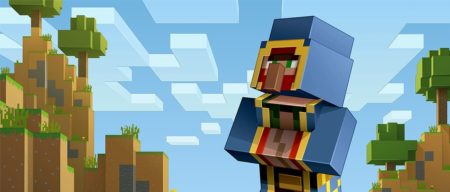 Unlike the other villagers, the Wandering Trader does not buy objects in exchange for emeralds, but only items sold, using emeralds as currency. Go to the official wiki to see the available exchanges.
Building a NPC farm
In order to have a wide range of offers from villagers, it is necessary to build a farm. A "villagers' farm" is very useful to force the pnj to reproduce and thus make the maximum possible exchanges.
The video of Journey d'Avo explains how to do this, it works for versions higher than 1.16 :