Ariane 5 World is a map for Minecraft in which you will be able to visit an unknown planet lost in a distant galaxy that houses the Ariane 5 rocket as well as a parkour, 4 mini-games and other secrets that you will have to discover while walking on the map.
More information about Ariane 5 World
The map was created by the builders team Elysium Fire and can be played in multiplayer as well as solo. Inside the map there are different rooms with books where you can learn more about Ariane 5 and its history.
The project is also supported by ArianeGroup, manufacturer of the legendary Ariane 5 rocket, which has provided the information in these books. This is one of the strong points of this map, the clever mix between the playful and educational aspect.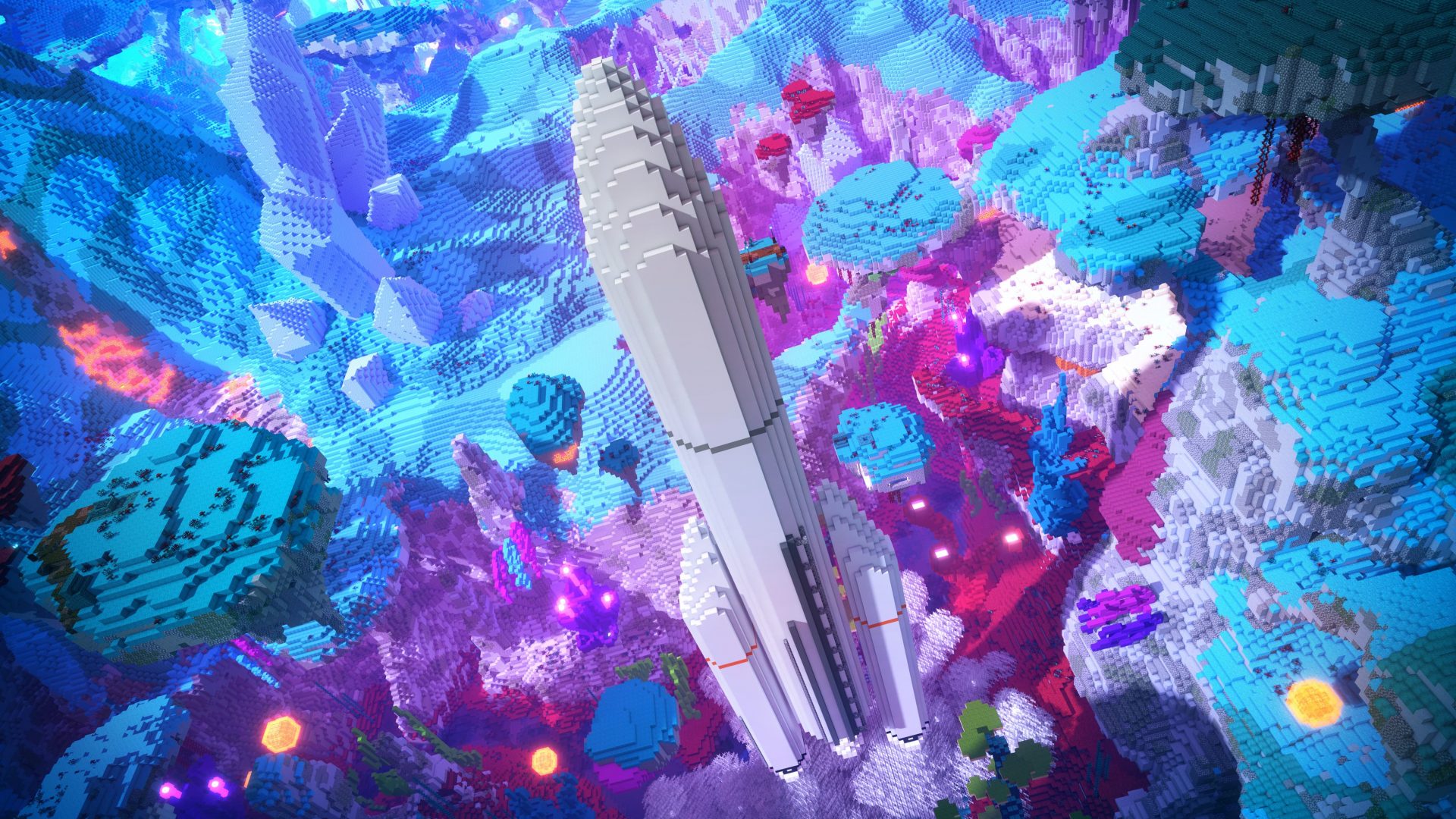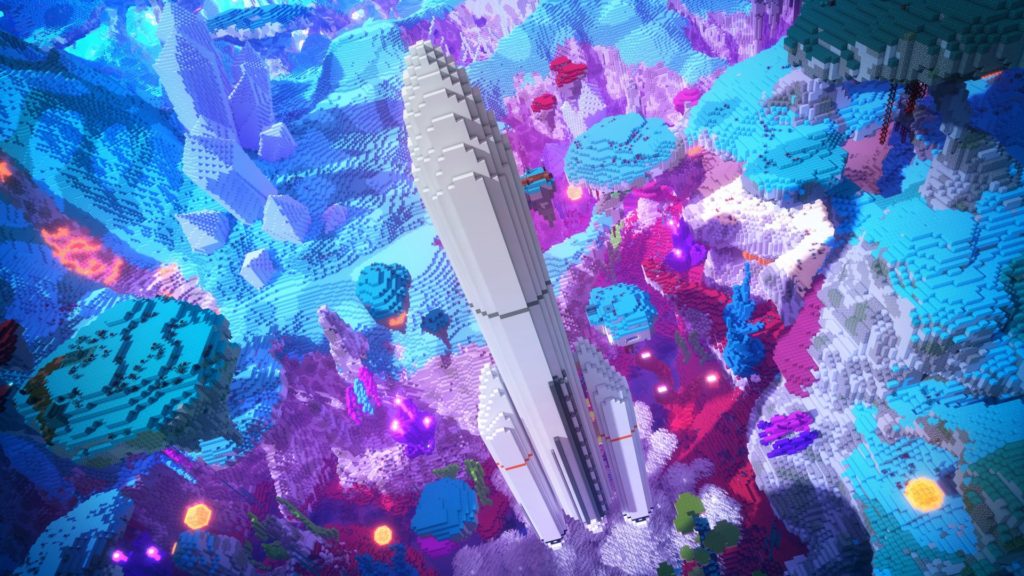 You start the adventure at the foot of the Ariane 5 rocket and your goal is to reach the top. At the spawn, you will see that you have a remote control in your hand, this will allow you to move between the save points or teleport to the beginning of the course. To do this, you will have to overcome many parkour that will lead you to rooms with checkpoints, each of these rooms has mini-games well known to all Minecraft players but with a little space twist.
The content of the map
Parkour : you will have to jump from blocks to blocks to reach the rooms and your final goal, the top of Ariane 5. Once you reach the top, you can buy a pair of elytra to fly over the planet as you please. If you can't get past the parkours, teleportation points are available (solo game)
Dropper : in this mini-game you will have to drop into the vacuum of space while avoiding the asteroids on your way. (single player game)
Elytra race : cross the magnificent canyon equipped with your elytra and try to make the best time. (single player game)
TNT Run : you will have to be the last survivor of the 3 consecutive platforms. (multi game)
Quake : equipped with your laser gun, you will have to eliminate all your opponents by shooting them (multi game)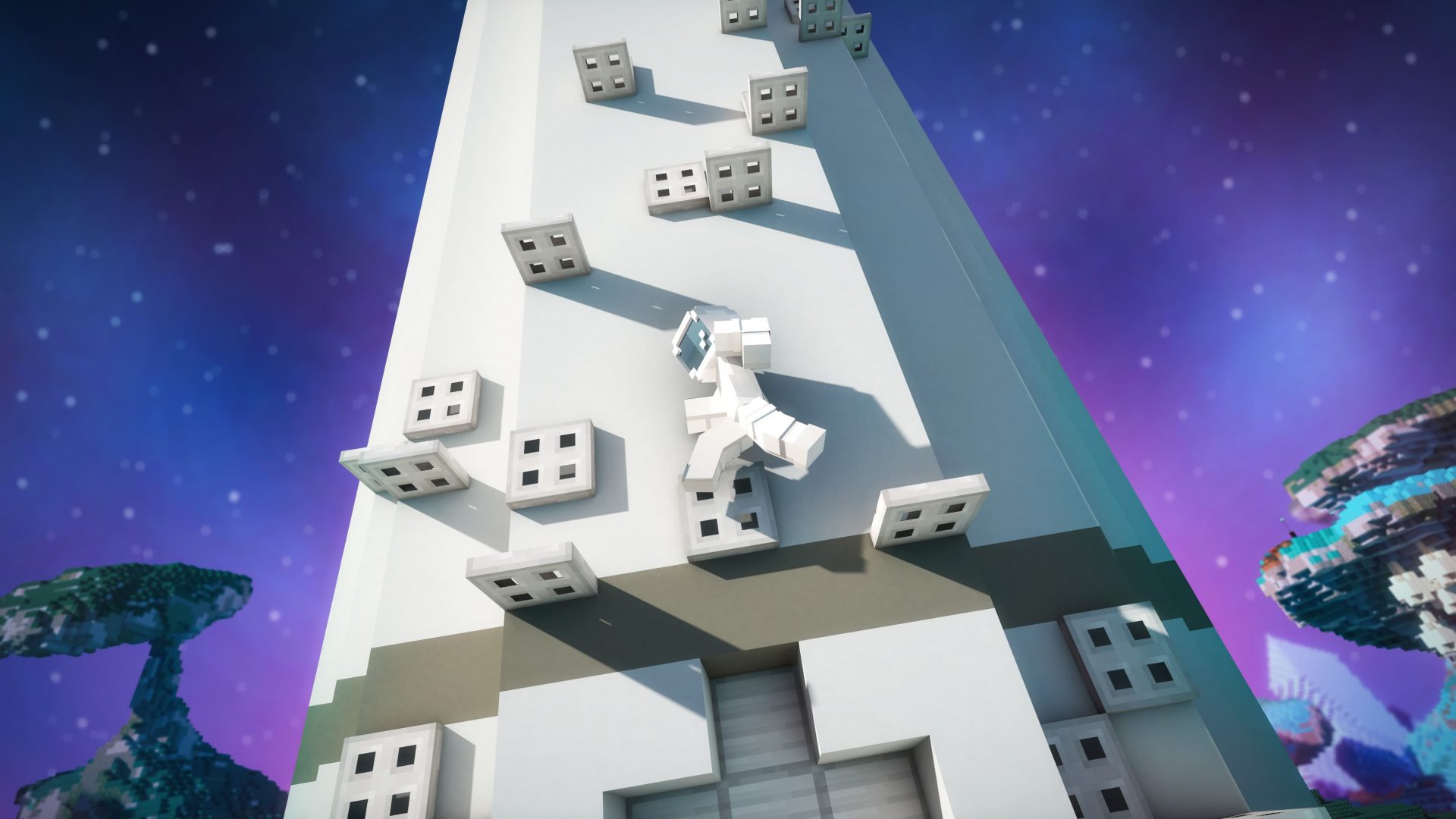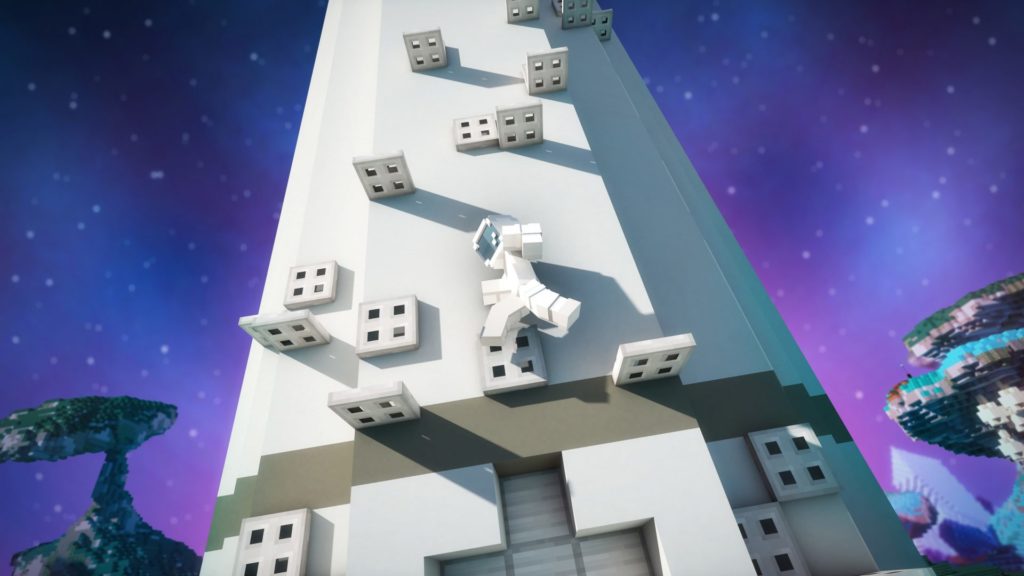 In each room you reach, you will have the opportunity to learn more about Ariane 5 through the books that are there. These books tell the story of the rocket but also allow you to learn more about the strange planet you are on.
There are even 2 secret rooms hidden on the map and 5 winks to famous Youtubers (Aypierre, Aurelien_Sama, NemsYT, Frigiel and Siphano). If you can't find them, the contact information is available at the end of the article.
Download the Ariane 5 World map
Please note that the map only works on the Java 1.16.5 version of Minecraft (and is therefore not compatible with the Bedrock Edition). To download the map, follow the link below :
For help on installing the map, check out our article : How to install a Minecraft map
Illustrations of the map
Hidden content
Here are the coordinates of the hidden contents on the map :
Aypierre: X: -256 Y:201. Z:116
Aurelien_sama : X : -10 Y : 38 Z:-56
Frigiel: X: 12 Y: 44 Z:-166
Nems YT: X: -160 Y: 42 Z:-223
Siphano: X: -37 Y:140 Z:113
Pieces :

6th piece: X: 194 Y: 77 Z: -231
7th piece: X: -279 Y: 15 Z: -296
See more in french : Ariane 5 World – Map Minecraft on Minecraft.fr