The Lucky Block mod adds a single block to Minecraft, but over a hundred different actions !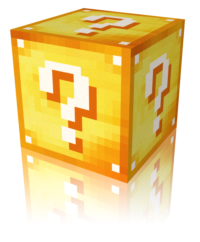 After destroying the Lucky Block, all you have to do is cross your fingers and hope it gives you what you need. You can expect objects, animals, monsters, structures and many other surprises.
The lucky block mod works for Minecraft versions: 1.7.10, 1.8.9, 1.9.4, 1.10.2, 1.11.2, 1.12.2, 1.13.2, 1.14.4, 1.15.2, 1.16.5, 1.17.1, 1.18.2, 1.19.4, 1.20.1. Why waste your gold on tools, swords and armor ? How many clocks do you really need ? Are you tired of useless piles of gold accumulating in your inventory ?
Now there's a block that makes all that gold in your vaults worthwhile. The Lucky Block.
When you collect this block, it will choose a random result from over 100 combinations of elements, entities, and structures.
But beware, because if luck is not on your side, this block can have devastating effects on you or your world. Use it wisely.
Lucky Block Usage and Recipe
Lucky blocks can be found naturally in your Minecraft world. But if you want to make one, the recipe is as follows :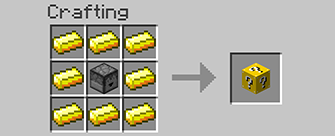 You can also increase the "luck" of a Lucky Block by placing it on a craft table with other appropriate items. The higher the chance, the more likely you are to get a better result.

Bonuses
Diamond : +12
Diamond block : +100
Emerald : +8
Emerald block : +80
Gold ingot : +6
Gold Block : +60
Iron Ingot : +3
Iron Block : +30
Golden Apple : +40
Enchanted Golden Apple : +100
Nether Star : +100
The malus
Rotten meat : -5
Spider's eye : -10
Fermented spider's eye : -20
Poisoned potato : -10
Balloon Fish : -20
Lucky Block Illustrations
When you mine a Lucky Block, you never know what you'll get. It could be a simple object, a massive structure or a dangerous monster. Keep your fingers crossed and hope that luck is on your side. You can get over 100 different results. Below are some of the things you can expect.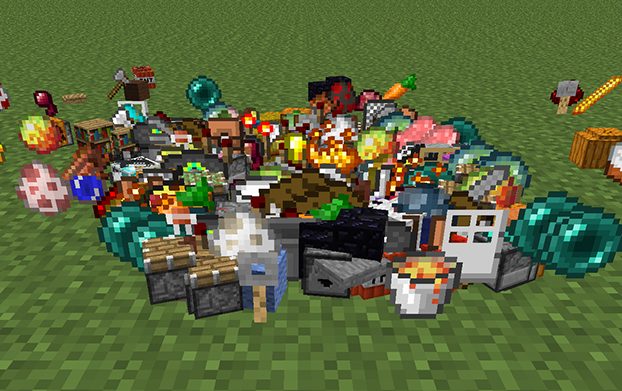 Documentation / Wiki
The documentation contains everything you need to know about the Lucky Block configuration system. It will allow you to customize it and create custom add-ons.
Lucky Block's configuration system is very powerful, allowing complete control and manipulation of Minecraft. Although this system can become complex, the basic functionality is simple and is based on a wide range of examples.
Download the Lucky Block mod
The Lucky Block mod is compatible with Minecraft Forge on the following versions of Minecraft : 1.20.1, 1.19.4, 1.18.2, 1.17.1, 1.16.5, 1.15.2, 1.14.4, 1.13.2, 1.12.2, 1.11.2, 1.10.2, 1.9.4, 1.8.9, 1.7.10 and 1.6.4
The Lucky Block mod is compatible with Fabric on the following versions of Minecraft: 1.19.2, 1.18.2, 1.17.1 and 1.16.5.
To download Lucky Block, visit the official website luckyblockmod.com and download the desired version from the bottom of the page.
[Sources : Github]